Profile

Birth name

Ayodeji Ibrahim Balogun

Also known as

Lil Prinz
Born
16 July 1990
Surulere, Lagos, Lagos State, Nigeria
Genres

Occupation(s)

Recording artist
songwriter
performer

Wale, Wande Coal
Ice Prince, R2Bees, M.I

Labels

Current

---

Starboy Entertainment
Disturbing London

Former

---

Empire Mates Entertainment

Associated acts

Drake Maleek Berry Legendury Beatz, L.A.X, Banky W.
Skales, Shaydee
Jesse Jagz, Runtown
Introduction

Ayodeji Ibrahim Balogun (born 16 July 1990), better known by his stage name Wizkid (sometimes stylized as WizKid), is a Nigerian recording artist, songwriter and performer. He started his musical career at age 11, releasing a collaborative album with Glorious Five entitled Lil Prinz (2001). In 2009, he signed a record deal with Banky W.'s imprint Empire Mates Entertainment. He rose to prominence in 2010 with the release of the song "Holla at Your Boy" from his debut studio album, Superstar (2011). "Tease Me/Bad Guys", "Don't Dull", Gidi Girl, "Love My Baby", "Pakurumo" and "Oluwa Lo Ni" were also released as singles from theSuperstar album.
Wizkid's self-titled second studio album, Ayo (2014), was preceded by the singles "
Jaiye Jaiye", "On Top Your Matter", "One Question", "Joy", "Bombay" and "Show You the Money".
In addition to his solo work, Wizkid has collaborated with several artists and was featured on the hits "Girl" (with Bracket), "Fine Lady" (with Lynxxx), "Sexy Mama" (with Iyanya), "Slow Down" (with R2Bees), "The Matter" (with Maleek Berry), "Pull Over" (with KCee) and "Bad Girl" (with Jesse Jagz). He was ranked 5th on Forbes and Channel O's 2013 list of the Top 10 Richest/Bankable African Artists. In February 2014, Wizkid became the first ever Nigerian musician to have over 1 million followers on Twitter.
Life and music career
1990–2010: Early life and Lil Prinz
Wizkid was born on 16 July 1990 in Surulere, a residential and commercial area of Lagos. In a 2012 interview with Tim Westwood, he said that his father has three wives. Wizkid started singing at age 11, releasing a 7-track album entitled Lil Prinz(2001). During an interview with Adesope of Factory 78 TV, Wizkid described his life in a nutshell. He said he formed a group called the Glorious Five with a couple of his church friends. The group dropped an album prior to dismembering. Wizkid later met OJB Jezreel, a record producer who prevented him from recording for a year. While visiting Jezreel's studio frequently, he watched 2 Face Idibia record Grass 2 Grace and Sound Sultan record Jagbajantis. A year later, Wizkid started recording. His first song featured OJB Jezreel. The song was met
with great reception throughout Surulere. Wizkid cited Naeto C as one of the people who mentored and coached him while he was 15 years old. Wizkid also told Factory 78 TV that his parents weren't receptive of his music from the onset. In order to gain his father's trust, he had to work hard and spent lots of time in
the studio. Wizkid has a great relationship with Banky W. He told Factory 78 TV that he and Banky became friends prior to starting a professional relationship. He co-wrote Banky W's "Omoge You Too Much", a song off the The W Experience album. In 2006, he collaborated with Naeto C and Ikechukwu. In 2009, Wizkid became a household name within Nigeria's musical landscape; he was featured on M.I's "Fast Money, Fast Cars" and Kel's "Turn by Turn".
2010–11: Superstar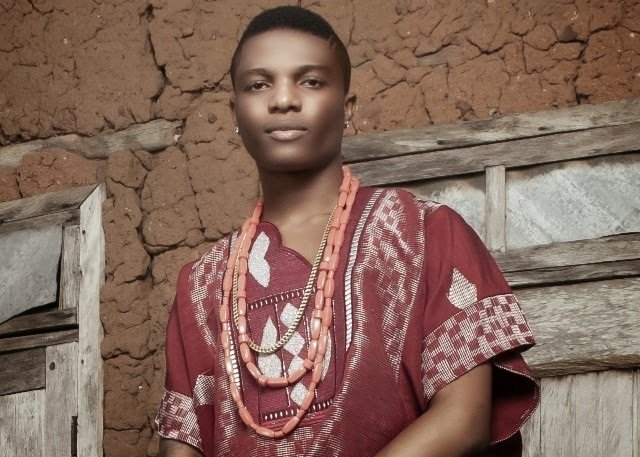 In 2010, Wizkid began recording his debut studio album Superstar (2011). On 2 January 2010, he released "Holla at Your Boy"  as the album's lead single. The song earned Wizkid a Next Rated award at The Headies 2011, and was nominated for Best Pop Single at The Headies 2011.The music video for "Holla at Your Boy" was nominated for Most Gifted Newcomer Video at the 2011 Channel O Music Video Awards. The music video was also nominated for Best Afro Pop Video at the 2011 Nigeria Music Video Awards (NMVA). On 2 April 2010, Wizkid released "Tease Me/Bad Guys" as the album's second single; it was initially released as a freestyle."Don't Dull", the album's third single, was released on 6 December 2010.
The album, recorded in English and Yoruba, was released on 12 June 2011 by Empire Mates Entertainment. It incorporates elements of R&B, dancehall, and reggae. Wizkid collaborated with a wide range of music producers, including E-Kelly, Jay Sleek, Shizzi, DJ Klem, Sunny Nweke, Q-Beats and Samklef. The album features guest appearances from Banky W., Skales, D'Prince and Wande Coal. It was initially scheduled for release on 14 February 2011, but was later pushed back. On 12 June 2011, Wizkid hosted an album launch party at the Expo Hall of the Eko Hotel and Suites. The album's launch party featured performances from Banky W, Skales, 2face Idibia, Samklef, Wande Coal, D'Prince, Olamide, eLDee, Jesse Jagz, Ice Prince, Lynxxx and Seyi Shay. Superstar garnered Best Album of the Year at the 2012 Nigeria Entertainment Awards, and was nominated for Album of the Year at The Headies 2012
2012–2014:  Ayo and other recordings
Work on Wizkid's second studio album, Ayo, began in 2012 and continued through 2014. It features guest appearances from Femi Kuti, Banky W., Seyi Shay, Phyno,Tyga, Akon and Wale. The album's production was handled by Sarz, Shizzi, Uhuru,Del B, Dr Frabz, Maleek Berry, Legendury Beatz and Spellz. It was initially titled Chosen. According to MTV Base, the album suffered from a pushed back release date. It was earlier reported that the album would feature Don Jazzy, Efya and Olamide. On 6 September 2014, Wizkid revealed the album's cover art and track listing.
Prior to announcing plans for a second studio album, Wizkid had plans of releasing a mixtape in April 2013. In an interview withOk! Nigeria TV at Disturbing Headquarters in London, he said that the mixtape would be released in April. He also said that the mixtape would feature Wale and Tinie Tempah. Wizkid later announced that he would be releasing his second studio album on 12 June 2013. In an interview with HipTV, Banky W revealed the album's title and commented on the delayed album. In addition, he gave an estimated time-frame for the album's release.
On 2 May 2013, Wizkid and Starboy Entertainment released the album's lead single "Jaiye Jaiye" featuring Femi Kuti. Wizkid told Showtime Celebrity that he collaborated with Femi Kuti in order to prevent people from depicting him as an artist whose lyrics revolve around girls, cars and materialistic things. "On Top Your Matter" was released as the album's second single on 26 October 2013; it was produced by Del B. The music video for the single, released on 13 February 2014, was shot and directed in South Africa by Sesan.In July 2014, Wizkid visited The Beat 99.9 FM studio in Lagos and told Toolz that he collaborated with Barbadian singer Rihanna.
2015–present: Sounds From the Other Side 
On 5 January 2015, Wizkid released the music video for "Ojuelegba", a song that highlights the struggles he endured in the early years of his recording career. The official remix to the song features vocals from Drake and Skepta; it premiered on OVO Sound Radio in July 2015. Wizkid first announced that he was working on a new album during his visit to London in October 2014. He revealed his collaborative single with Chris Brown titled "African Bad Girl", and said that it would be the lead single off the upcoming album. In April 2015, both Wizkid and Chris Brown performed the song together at the latter's concert in Durban, South Africa. In May 2015, Wizkid released "Expensive Shit", an Afrobeat song built on light guitars, saxophone lines and acoustic percussion; the song was reported as being a likely inclusion on the album, In July 2015, Wizkid announced via Twitter that Angélique Kidjo will be featured on the album.In September 2015, Wizkid revealed that he was dropping his EP and postponing the release of his third studio album. He made the announcement via Instagram shortly after the conclusion of 2Face Idibia's "Fortified" tribute concert. Wizkid was quoted as saying, "I celebrated the legend 2face Idibia last night! Epic! It made me realize how much work I need to do." According to an interview published by The Fader magazine, Wizkid's upcoming EP would be titled Sounds From the Other Side. Although much information were not revealed, The Fader did report that Wizkid is squeezing in edits to the EP. On April 5, 2016, Wizkid became Nigeria's first artist to emerge on Billboard's Twitter Last 24 hours chart following his guest feature on Drake's "One Dance" single, which charted at number 21. On May 12, 2016, the song reached number 1 on the Billboard Hot 100 chart. On 5 June 2016, Wizkid released the promotional single "Like This". The song made its premiere on Drake's OVO Sound Radio in June 2016. It was produced by Amsterdam-based Ghanaian producer DJ Henry X. Sheldon Pearce of Pitchfork Media described the song as a "frolicking, summery jam that revels in all the work he [Wizkid]'s put in.
World tours and notable performances
After releasing their compilation album Empire Mates State of Mind, EME acts toured the United States. The tour kicked off on 4 July 2012 and ended on 2 September 2012. EME acts performed in several different cities, including Houston, Dallas, Toronto, Vancouver, New York City, Providence, Calgary, Atlanta, Washington DC, and Chicago. Wizkid toured London in 2012 and performed at the HMV Apollo on 4 June 2012. On 12 November 2012, he performed at the BBC Radio 1Xtra Live 02 Academy in Brixton alongside Trey Songz, Tulisa, Kendrick Lamar and Angel. On 17 October 2013, Wizkid performed at the 2013 edition of Felabration, a yearly concert dedicated to the late Fela Kuti.On 2 November 2013, he performed at the Guinness Colorful World of More concert alongside D'banj, Tiwa Savage, P-Square, Davido, Ice Prince, Burna Boy, Olamide andPhyno, among others. The concert took place at the Eko Convention Centre of the Eko Hotels and Suites. On 23 November 2013, Wizkid performed at the Guinness Big Eruption Concert. Wizkid was invited as a special guest for some shows in Tinie Tempah's tour of the UK in 2014. Wizkid joined Chris Brown on his "One Hell of a Nite" world tour in May 2016.
Endorsements
In 2012, Wizkid signed a one-year endorsement deal with Pepsi reportedly worth 350,000 U.S dollars.He travelled to Beirut, Lebanon with Tiwa Savage for a Pepsi commercial shoot.On 28 May 2013, Premium Times reported that Wizkid signed a one-year deal with Nigeria. Moreover, the news source reported that Wizzy's Pepsi contract was renewed for another two years. On 23 October 2013, BellaNaija reported that Wizkid signed an endorsement deal with Guinness for the "Guinness World of More" concert. The concert was held at the Eko Convention Centre of the Eko Hotel and Suites in Victoria Island, Lagos on 3 November 2013. On 18 June 2015, Pulsereported that Wizkid ditched MTN and signed a ₦128 million naira deal with GLO.
Personal life 
On 22 August 2011, Nigerian Entertainment Today reported that Wizkid fathered his first child at age 21. After a thorough investigation, the news source concluded that Wizkid impregnated an undergraduate student named Oluwanishola Ogudugu. Moreover, the news source added that multiple sources familiar with the "baby mama" and her family told them that they knew about the relationship between both parties. When the story broke out, close friends and associates of Wizkid didn't confirm the story due to DNA results that were pending at the time.Wizkid broke his silence on the story in several interviews. In an interview with a Nigerian Entertainment Today editor, Wizkids denied having a child. In another interview held at Ogudu-GRA in Lagos, Wizkid said he really doesn't want to find himself in that peculiar situation. A week before denying the aforementioned allegations, Wizkid tweeted from his official Twitter handle. In December 2012, he denied the baby scandal during an interview with Nonye Ben-Nwankwo of The Punch. In October 2013, Wizkid uploaded a picture of he and his 2-year-old son, Boluwatife Balogun, onto his Instagram account. The photo confirmed the alleged rumours and allegations that were harboured for 2 years. The photo also vindicated Nigerian Entertainment Today, the news source that first covered the story
Awards and nominations
Wizkids contribution to the Nigerian Music Industry has earned him several achievements, including a BET Award, a MOBO Award, five The Headies Awards, two Channel O Music Video Awards, six Nigeria Entertainment Awards, two Ghana Music Awards, two Dynamix All Youth Awards, two City People Entertainment Awards, and a Future Award. He has received three nominations at the MTV Europe Music Awards. He has also been nominated four times at the World Music Awards.
source:wikipedia.com
Comments